There are many diseases such as Xerostomia and Salivary Gland Hypofunction, radiation therapy in the head and neck area, and medications that cause dry mouth. In this article, we present several treatment options for older patients experiencing dry mouth.
Sections
Mouth Moisteners
Several mouth moisteners in the form of salivary substitutes or artificial saliva are available as rinses, aerosols, toothpastes, mouthwashes, lozenges, or chewing gums in the U.S. and worldwide, Table 3 [58], [59], [73], [74].
The principal idea of these salivary substitutes is to provide a long-lasting coating of the oral soft tissues. But sprays, liquids, or gels may need to be applied frequently throughout the day (at least 3–4 times a day) depending on their adherence and/or lasting abilities.
Lozenges or pastilles may provide a more discreet and socially acceptable means of adding moisture to the mouth since their usage maybe be better hidden. However, one needs to be aware of hidden sugars in some of these products [73], [74].
Most of the currently available preparations to moisten the mouth contain either carboxymethylcellulose or mucins although preparations based on hydroxyethylcellulose, polyglycerylmethacrylate, hydroxyprophylmethylcellulose, glycerol, canola oil, olive oil, and linseed extract are also reported to be useful [73].
Sugar-free chewing gums of various types, sweetened with sugar substitutes, xylitol or sorbitol, can be used by patients during waking hours. These chewing gums stimulate salivary production by topical gustatory or masticatory action [25], [73].
There is no evidence that gum is better or worse than saliva substitutes, probably because gums are effective only if there is remaining salivary functional tissue [73], [74]. However, chewing gums can be problematic for older adults, especially those who wear removable appliances [45] or have arthritis effecting the temporomandibular joint (TMJ).
Lozenges or pastilles containing Xylitol that dissolve on the tongue or are adherent to the buccal surface of the tooth and are not to be chewed may give better comfort for these cases, with less likelihood of adhering to the denture component or aggravating TM joints.
Salivary Stimulators for Dry Mouth
Preparation
Products
Active Ingredients
Mouth rinses/washes
Biotene Dry Mouth Oral Rinse (GlaxoSmithKline)

Colgate® Dry Mouth Relief Fluoride Mouthwash (Colgate)

Spray Oral Rinse (Spry Dental Defense System)*

Oasis Moisturizing Mouth Wash (Oasis Consumer Healthcare)

Act Total Care Dry Mouth Soothing Mouthwash (Chattem, Inc.)
Glycerin, xylitol, sorbitol, propylene glycol, hydroxyethyl cellulose

Not available

Xylitol, glycerin

Glycerin, water, sorbitol

Glycerin, sorbitol, xylitol, propylene glycol
Patches
Oramoist dry mouth Patches (Quantum)
Xylitol, polyvinylpyrrolidone, carbomer homopolymer, hydroxypropyl cellulose, lysozyme, lactoferrin
Spray
Water/Glycerine Spray

MOI-STIR (Pendopharm, Pharmascience Inc.)

Biotene Moisturizing Mouth Spray (GlaxoSmithKline)

Oralube (Perrigo Australia)

Spry Oral Mist (Spry Dental Defense System)

Oasis Moisturizing Mouth Spray (Oasis Consumer Healthcare)

CVS Dry Mouth Spray (CVS Pharmacy)/Rite Aid Dry Mouth Spray (Rite Aid Pharmacy)
Glycerin

Carboxymethylcellulose sodium, glycerin

Glycerin, xylitol, hydrogenated castor oil

Methyl hydroxybenzoate, sorbitol

Glycerin, Xylitol, Sorbitol

Glycerin, sorbitol, poloxamer 338, PEG 60, hydrogenated castor oil

Xylitol, aloe vera, lactoferrin, lyzozyme, glucoxidase, amylase, amylogucosidase, peptizyme
Gel
GC Dry Mouth Gel (GC America Inc.) Dentist dispensed

Biotene Oral Balance Moisturizing Gel (GlaxoSmithKline)

Orajel Dry Mouth Gel (Church & Dwight, Inc.)
Not available

Glycerin, sorbitol, xylitol, carbomer, hydroxyethyl cellulose

Glycerin
Toothpaste
Biotene Dry Mouth Fluoride Toothpaste (GlaxoSmithKline)

Spry toothpaste (Spry Dental Defense System)
Glycerin, sorbitol

Glycerin, xylitol, sorbitol
Salivary substitute solution
Saliva Substitute (Roxane laboratories) Prescription
Purified water, sorbitol, sodium carboxymethylcellulose, etc.
Oral Moisturizers & Salivary Substitutes for Dry Mouth
| E/M Code | HPI (# elements) | ROS (# systems) | PFSH | Exam (# elements) | MDM |
| --- | --- | --- | --- | --- | --- |
| 99212 | 1-3 | 0 | 0 | 1-5 | straightforward |
| 99213 | 1-3 | 1 | 0 | ≥ 6 | low |
| 99214 | ≥ 4 | 2 | 1 | ≥ 9 | moderate |
Toothpastes, fluoride as treatment
Toothpastes designed for the treatment of dry mouth may subjectively improve symptoms but do not improve salivary gland function [73]. Many people with dry mouth prefer non-foaming gel-type toothpastes that are less irritating than foaming toothpastes, which have surfactants in them that can prove to be problematic [25].
Since reduced salivary flow can have detrimental effects on the dentition, aggressive caries prevention and management play vital roles in maintaining the dentition for patients with dry mouth [32]. Regular dental visits and a meticulous oral hygiene regimen should be encouraged [32].
Both professionally applied varnish (2.26% fluoride or 5% Sodium fluoride varnish) and prescription-strength, home-use topical fluorides (0.5% fluoride or 1.1% neutral sodium fluoride gel/paste, 0.09% fluoride mouth rinse) have been recommended as effective and beneficial measures for caries prevention in older adults [32], [75].
Effectiveness of Topicals
Although some topical agents, by patient report, do seem to cause a lessening of dry mouth symptoms, thus improving the quality of life for some, there is no strong scientific evidence that any topical treatment is effective for relieving the sensation of dry mouth [74] and recent literature indicates that no one topical agent is better than another [73].
Patient preference appears to play a significant role in the acceptance and attribution of efficacy [32], [74]. The make-up of most lubricants and salivary substitutes do not duplicate the compounds found in saliva and therefore lack its protective effects, although some of them contain fluoride and electrolytes to prevent demineralization [32], [59].
Any preparation containing substances problematic for causing caries or tissue discomfort such as sugar, acid and/or alcohol should be avoided in patients with dry mouth [32].
Prescription Dry Mouth Medications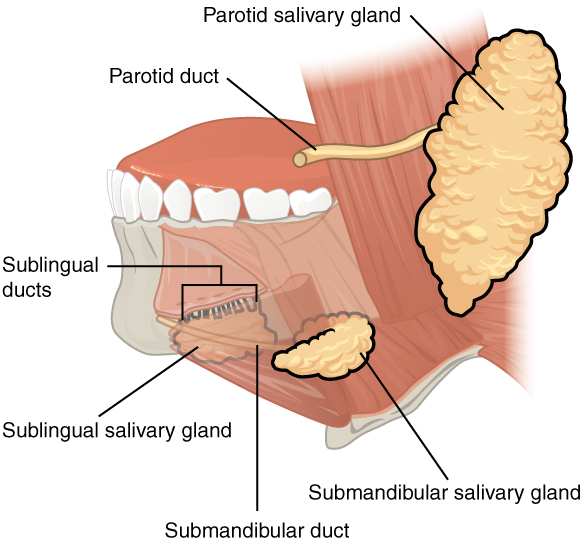 In cases when topical therapy cannot provide adequate relief of dry mouth symptoms or cannot control the complications of dry mouth, prescription-strength systemic medication in the form of sialagogues such as pilocarpine and cevimeline, orally administered parasympathetic agonists of the acetylcholine muscarinic M3 receptors, may be considered.
US Food and Administration approved these parasympathetic agonists to increase salivary secretion in patients with Sjogren's syndrome (pilocarpine and cevimeline) and head and neck cancer patient with radiation-induced salivary gland hypofunction (pilocarpine only) [25], [32], [58], [63], [65], [70], [73].
These sialagogues cannot increase the function of salivary glands that are completely destroyed, but they can enhance the function when there is residual glandular tissue.
Pilocarpine
The optimal dosage of pilocarpine 5–7.5 mg three to four times daily or 10 mg 3 times daily is generally well tolerated [32], [69], [70]. Pilocarpine (SALAGEN; MGI Pharma, Bloomington, USA) should be prescribed for at least 8–12 weeks to see if there is a positive response and if long-term use would be planned due to the presence of residual salivary gland tissue that has become functional as a result of the medication [49], [70].
Cevimeline
Cevimeline (EVOXAC; Daiichi-Sankyo, Tokyo, Japan) 30 mg taken 3–4 times daily, increased salivary flow, and improved subjective and objective symptoms of patients with dry mouth and is also well tolerated by patients [32], [69], [70].
Sialagogues need to be administered long term, basically life-long since the observed clinical improvements in salivary gland hypofunction diminish after cessation of sialagogues.
Side Effects of Sialogogues
The side effects of these medications include but are not limited to sweating, increased urgency or frequency of urination, lacrimal and nasal secretion, and joint pain. Both medications, but this is true more so for pilocarpine, are contraindicated in patients with narrow angle glaucoma, acute iritis, uncontrolled asthma, chronic obstructive pulmonary disease (COPD), kidney stones, gall stones, and heart or liver disease. Both medications can cause dehydration as well. Hence, sialagogues must be given with a high rate of caution in our older adult population.
Another systemic sialagogue of interest is Bethanechol HCL with promising results in patients with radiation therapy-induced hyposalivation. However, further studies are needed to determine the dose, frequency of use, long-term efficacy, and safety for the use of Bethanechol [69], [70], [73].
Non-pharmacologic Interventions
Non-pharmacologic interventions for dry mouth include electrostimulation of the salivary glands with hand-held battery operated devices or removable intraoral devices [49], [69], [70], [73], [76]; manual and electro acupuncture [49], [69], [70], [73], [77]; hyperbaric oxygen therapy [72], [78] and application of low level laser therapy [79]. There is however little or insufficient evidence in the literature in definitive support of these interventions in the management of dry mouth [20], [72], [73].
Immunologically active agents such as interferon alpha, corticosteroids, hydroxychlorquine and other immunosuppressants such as cyclophosphamide and thalidomide have been studied for the management of dry mouth by suppressing the glandular damage from immunologically medicated diseases such as Sjogren's syndrome and others such as sarcoidosis, HCV and HIV infection related salivary gland diseases [58].
Cost Effectiveness of Treatment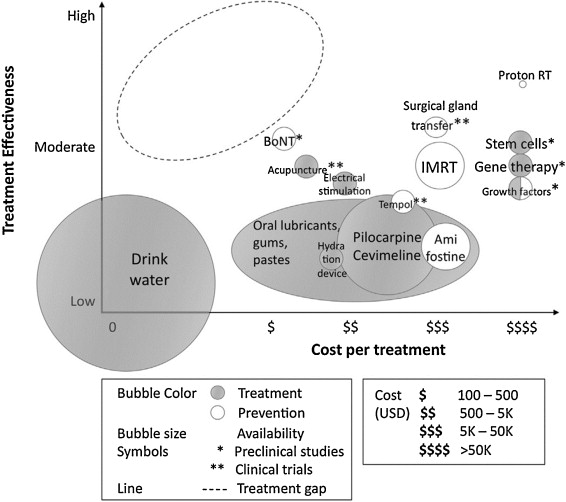 Given the myriad of choices for the treatment of dry mouth, it is easy for a practitioner to be unsure as to what to recommend to a patient who has clinical signs with or without symptoms.
A cost-effective study examining the various treatments that are currently available or in development for this condition when it occurs as an outcome of head and neck cancer therapy, was mounted by Saportas et al. Her group indicated that the most effective and attractive way to address dry mouth in these patients is by protecting the salivary glands from radiation damage in the first place [49].
To do so, changes to the conventional therapy techniques previously used must be employed. Several solutions that meet this objective are available and have demonstrated moderate effectiveness.
For example, newer radiation techniques including not only Intensity-modulated RT (IMRT), but also Intensity modulated Proton Radiation Therapy (IMPRT), which uses protons instead of X-rays. When IMPRT is employed, reduced findings of hyposalivary function from 80% down to 25–40% have been reported [80], [81].
Another protective action would be to institute the use of radioprotective drugs such as Amifostine, which has been approved for the treatment of salivary hypofunction. However, this drug does have significant negative effects such as nausea and vomiting, and its use during IMRT has been indicated as possibly unnecessary since the major salivary glands are being spared in this type of therapy, unlike in conventional radiation therapy [82].
Surgical procedures, including salivary gland transfer to an area outside of the radiation field (e.g., transfer of the submandibular gland to the submental space), have been shown to spare the gland and its function [83].
Hydration devices [84] are also available as one of the current palliative treatments for radiation-induced xerostomia in addition to the administration of sialagogues, acupuncture, saliva substitutes, and electrical stimulation of salivary secretion.
Emerging preventive treatment solutions include systemic administration of growth factors such as insulin growth factor 1 (IGF-1) or keratinocyte growth factor (KGF) [85], [86] administration of botulinum toxin (BoNT) [87], another radioprotective drug called tempol [88] and the regeneration of the salivary gland tissue by gene therapy or by transplantation to the salivary gland of bioengineered salivary gland germ cells [89].
Even with all of these existing and emerging therapies for radiation-induced salivary hypofunction there is a large treatment gap, and the most efficacious treatment with the most cost-effective ratio is still not available [49].
Solving this treatment gap will not only serve the needs of the patients with radiation-induced salivary gland hypofunction, but also will help the majority of patients who are more likely to have dry mouth from more frequently seen conditions such as medication-usage.
Conclusions
When it comes to the treatment of dry mouth conditions, either objective or subjective, there are no easy answers as to the best course of action for a specific individual.
As previously noted, there are many conditions that can cause dry mouth. While most of the cited studies have examined the most difficult cases of dry mouth, that is, those that are a result of treatment for head and neck cancer, there are many individuals who demonstrate dry mouth from far less grievous circumstances.
Taking a thorough history in an attempt to discover the contributor to and/or cause of the signs and/or symptoms and based on those findings, attempting to select the most appropriate intervention is the critical role of the practitioner. Additional factors such as patient comfort, motivation, access to the various treatments, and cost will also play a role in the selection of a successful therapy.
It is important to recall that water is an essential component for life [90]. Begin by educating the patient about possible causes of dry mouth. An analysis of fluid intake (e.g., a daily fluid diary) may be a good place to start and may also be the most practical, cost-effective, and efficient treatment with the best risk-benefit ratio.
Postgraduate Degrees in Geriatric Dentistry
Are you looking for improved ways to diagnose, treat, and manage the oral healthcare of older patients? Explore the Herman Ostrow School of Dentistry of USC's online master's and certificate program in Geriatric Dentistry.
Conflict of interest
Authors have neither affiliation nor financial conflict of interest with any organization or company producing the oral care products discussed and mentioned in this article.
About the Authors
The original article, "Dry mouth: A critical topic for older adult patients," was authored by Phuu Han, Piedad Suarez-Durall, and Roseann Mulligan, Director Geriatric Dentistry Master and Certificate programs at the Herman Ostrow School of Dentistry of USC, and was originally published by Elsevier in the Journal of Prosthodontic Research.
References
[20.] S. Furness, G. Bryan, R. McMillan, S. Birchenough, H.V. Worthington
Interventions for the management of dry mouth: non-pharmacological interventions
Cochrane Database Syst Rev, 9 (2013), CD009603s

[25] C. Scully
Drug effects on salivary glands: dry mouth
Oral Dis, 9 (2003), pp. 165-176

[32.] J.M. Plemons, I. Al-Hashimi, C.L. Marek, American Dental Association Council on Scientific Affairs
Managing xerostomia and  salivary gland hypofunction: executive summary of a report from the  American Dental Association Council on Scientific Affairs

45. J.Y. Wick
 Xerostomia: causes and treatment
 Consult Pharm, 22 (2007), pp. 985-992

[49.] L.S. Sasportas, D.N. Hosford, M.A. Sodini, D.J. Waters, E.A. Zambricki, J.K. Barral, et al.
Cost-effectiveness landscape analysis of treatments addressing xerostomia in patients receiving head and neck radiation therapy
Oral Surg Oral Med Oral Pathol Oral Radiol, 116 (2013), pp. e37-e51

[58] S.R. Porter, C. Scully, A.M. Hegarty
An update of the etiology and management of xerostomia
Oral Surg Oral Med Oral Pathol Oral Radiol Endod, 97 (2004), pp. 28-46

[59] Wm. Wrigley Jr. Co.
Search for drugs that may cause dry mouth
(2001, November)

[63] T.O. Närhi, J.H. Meurman, A. Ainamo
Xerostomia and hyposalivation: causes, consequences and treatment in the elderly
Drugs Aging, 15 (1999), pp. 103-116

[65] Y. Peri, N. Agmon-Levin, E. Theodor, Y. Shoenfeld
Sjögren's syndrome, the old and the new
Best Pract Res Clin Rheumatol, 26 (2012), pp. 105-117

[69.] S.B. Jensen, A.M. Pedersen, A. Vissink, E. Andersen, C.G. Brown, A.N. Davies,  et al.
A systematic review of salivary gland hypofunction and xerostomia induced by cancer therapies: prevalence, severity and impact on quality of life
Support Care Cancer, 18 (2010), pp. 1039-1060

[70.] T.L. Lovelace, N.F. Fox, A.J. Sood, S.A. Nguyen, T.A. Day
Management of radiotherapy-induced salivary hypofunction and consequent xerostomia  in patients with oral or head and neck cancer: meta-analysis and  literature review
Oral Surg Oral Med Oral Pathol Oral Radiol, 117 (2014), pp. 595-607

[72.] W.L. Kenney, P. Chiu
Influence of age on thirst and fluid intake
Med Sci Sports Exerc, 33 (2001), pp. 1524-1532

[73.] A. Wolff, P.C. Fox, S. Porter, Y.T. Konttinen
Established and novel approaches for the management of hyposalivation and xerostomia
Curr Pharm Des, 18 (2012), pp. 5515-5521

[74.] S. Furness, H.V. Worthington, G. Bryan, S. Birchenough, R. McMillan
Interventions for the management of dry mouth: topical therapies
Cochrane Database Syst Rev, 12 (2011) CD008934

[75.] R.J. Weyant, S.L. Tracy, T.T. Anselmo, E.D. Beltrán-Aguilar, K.J. Donly, W.A. Frese,  et al.
Topical fluoride for caries prevention: executive summary of the updated clinical recommendations and supporting systematic review
J Am Dent Assoc, 144 (2013), pp. 1279-1291

[76.] R.K. Wong, J.L. James, S. Sagar, G. Wyatt, P.F. Nguyen-Tân, A.K. Singh,  et al.
Phase 2 results from Radiation Therapy Oncology Group Study 0537: a phase 2/3 study comparing acupuncture-like transcutaneous electrical nerve  stimulation versus pilocarpine in treating early radiation-induced xerostomia
Cancer, 118 (2012), pp. 4244-4252

[77.] J.H. Cho, W.K. Chung, W. Kang, S.M. Choi, C.K. Cho, C.G. Son
Manual acupuncture improved quality of life in cancer patients with radiation-induced xerostomia
J Altern Complement Med, 14 (2008), pp. 523-526

[78.] D.N. Teguh, P.C. Levendag, I. Noever, P. Voet, H. van der Est, P. van Rooij,  et al.
Early hyperbaric oxygen therapy for reducing radiotherapy side effects: early results of a randomized trial in oropharyngeal and nasopharyngeal cancer
Int J Radiat Oncol Biol Phys, 75 (2009), pp. 711-716

[79.] B. Lončar, M.M. Stipetić, M. Baričević, D. Risović
The effect of low-level laser therapy on salivary glands in patients with xerostomia
Photomed Laser Surg, 29 (2011), pp. 171-175

[80.] M.K. Kam, S.F. Leung, B. Zee, R.M. Chau, J.J. Suen, F. Mo,  et al.
Prospective randomized study of intensity-modulated radiotherapy on salivary gland  function in early-stage nasopharyngeal carcinoma patients
J Clin Oncol, 25 (2007), pp. 4873-4879

[81.] C.M. Nutting, J.P. Morden, K.J. Harrington, T.G. Urbano, S.A. Bhide, C. Clark, et al.
Parotid-sparing  intensity modulated versus conventional radiotherapy in head and neck  cancer (PARSPORT): a phase 3 multicentre randomized controlled trial
Lancet Oncol, 12 (2011), pp. 127-136

[82.] A. Eisbruch
Amifostine in the treatment of head and neck cancer: intravenous administration, subcutaneous administration, or none of the above
J Clin Oncol, 29 (2011), pp. 119-121

[83.] H. Seikaly, N. Jha, T. McGaw, L. Coulter, R. Liu, D. Oldring
Submandibular gland transfer: a new method of preventing radiation-induced xerostomia
Laryngoscope, 111 (2001), pp. 347-352

[84.] P.M. Frost, P.J. Shirlaw, J.D. Walter, S.J. Challacombe
Patient preferences in a preliminary study comparing an intra-oral lubricating  device with the usual dry mouth lubricating methods
Br Dent J, 193 (2002), pp. 403-408

[85.] I.M. Lombaert, J.F. Brunsting, P.K. Wierenga, H.H. Kampinga, G. de Haan, R.P. Coppes
Keratinocyte growth factor prevents radiation damage to salivary glands by expansion of the stem/progenitor pool
Stem Cells, 26 (2008), pp. 2595-2601

[86.] K.H. Limesand, J.L. Avila, K. Victory, H.H. Chang, Y.J. Shin, O. Grundmann,  et al.
Insulin-like growth factor-1 preserves salivary gland function after fractionated radiation
Int J Radiat Oncol Biol Phys, 78 (2010), pp. 579-586

[87.] A. Teymoortash, F. Müller, J. Juricko, M. Bieker, R. Mandic, D. Librizzi,  et al.
Botulinum toxin prevents radiotherapy-induced salivary gland damage
Oral Oncol, 45 (2009), pp. 737-739

[88.]
J.M. Vitolo, A.P. Cotrim, A.L. Sowers, A. Russo, R.B. Wellner, S.R. Pillemer,  et al.
The stable nitroxide tempol facilitates salivary gland protection during head and neck irradiation in a mouse model
Clin Cancer Res, 10 (2004), pp. 1807-1812

[89.] M. Ogawa, M. Oshima, A. Imamura, Y. Sekine, K. Ishida, K. Yamashita, et al.
Functional salivary gland regeneration by transplantation of a bioengineered organ germ
Nat Commun, 4 (2013), p. 2498

[90.] S.M. Kleiner
Water: an essential but overlooked nutrient
J Am Diet Assoc, 99 (1999), pp. 200-206