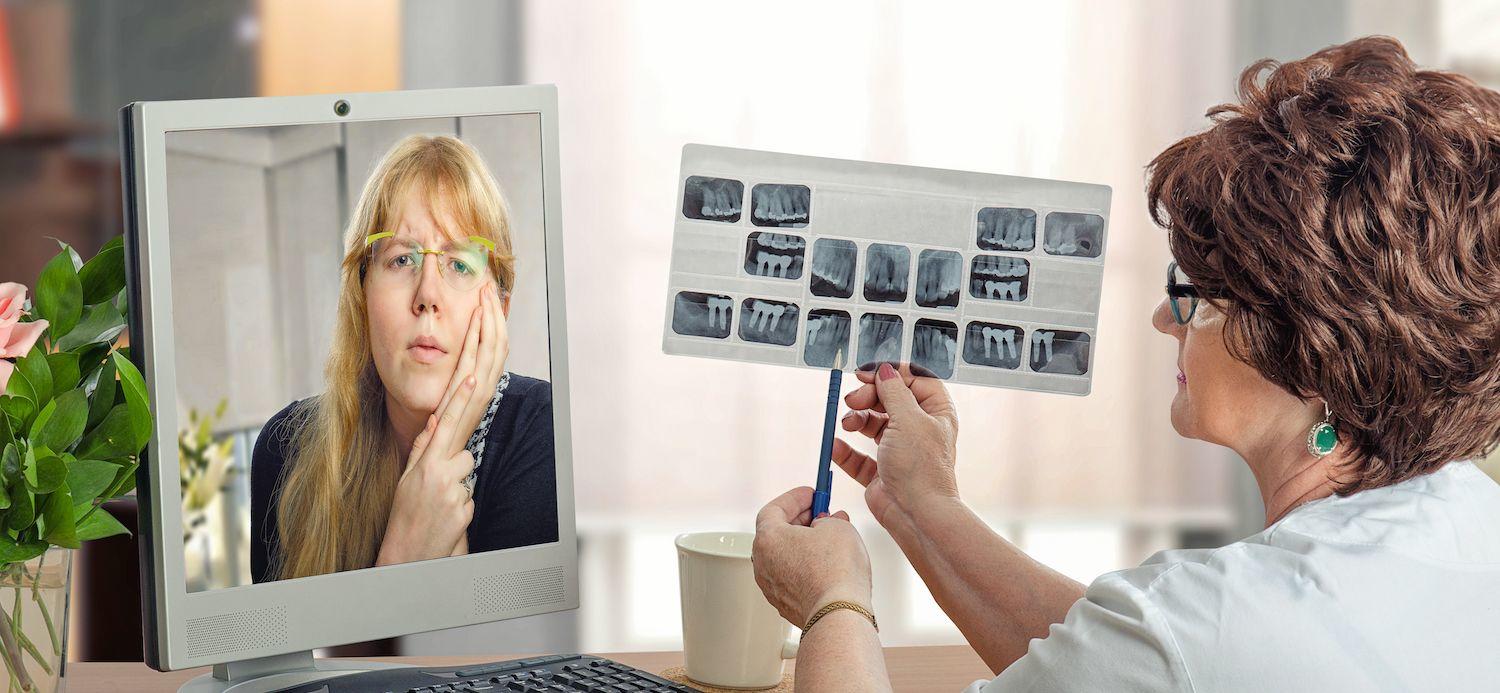 These FAQs were collected from a recent webinar on Telehealth & COVID-19 presented by the Herman Ostrow School of Dentistry with Dr. Glenn Clark, Professor Linda Brookman, Dr. Kamal Aleryani, and Dr. Steven Richeimer.
What is Teledentistry in 2020?
"Teledentistry" is obviously seeing patients via either a phone or internet video connection. Teledentistry is primarily used for consulting with potential new patients, reviewing results of treatment from PORs, and for emergency patients. Teledentistry can be over the phone, video, text, and it can be synchronous or asynchronous.
Telehealth typically includes some form of branched, smart questionnaire, a predictive diagnosis based on data mining and predictive values, a self-exam or clinical exam to identify features related to each identified condition, and a diagnosis and treatment plan based on evidence-based protocols.
In 2000, I was a guest editor of the California Dental Association Journal. I invited a group of collegues to contribute to the edition. A lawyer, a futurist, an oral medicine specialist, a community health specialist. Yes, it was 20 years ago that I put together this series of articles! BTW: don't ever go back and read what you wrote 20 years ago, unless you want to see how naïve you were about a topic.
Is Teledentistry legal?
It is legal in "most states". When it isn't legal, you can't charge for it. Because policies and laws are constantly changing, be sure to stay connected with your state's governing boards. If you're curious, start with the ADA's statement on Teledentistry and if you practice in California, read this article on California's Teledentistry requirements.
Can Teleconsulting for oral disease be performed and is it accurate?
Yes, it can be performed and yes it is accurate, depending on the question being asked. Some issues you can't solve without additional information (e.g. intraoral camera, radiographs or biopsy). Some can be solved.
Accuracy of Teledentistry for Diagnosing Dental Pathology


Outcome
Evaluable, n (%)
Sensitivity (95% CI)
Specificity (95% CI)
Main outcome
 Dental pathology
231 (98.3)
93.8% (90.7%–96.9%)
94.2% (91.2%–97.2%)
Secondary outcomes
 Chewing ability
198 (84.3)
85.0% (80.0%–90.0%)
82.8% (77.5%–88.1%)
 Dental prostheses rehabilitation success
144 (61.3)
87.8% (82.5%–93.1%)
90.3% (85.5%–95.1%)
Queyroux A, et al. Accuracy of Teledentistry for Diagnosing Dental Pathology Using Direct Examination as a Gold Standard: Results of the Tel-e-dent Study of Older Adults Living in Nursing Homes. J Am Med Dir Assoc. 2017 Jun 1;18(6):528-532.
The researchers in France had a caregiver at the nursing home perform a video oral examination of the patient and sent it to the expert who was not physically present. Currently, intraoral video cameras are just a little more expensive than an electric toothbrush, so they can be readily available at the patients location.
Which healthcare areas (including dentistry) are best suited for Telehealth?
Many are suited some are not, but certainly Pain Medicine and Orofacial Pain are great fits; I'd like to think Oral Medicine diseases (that are visible) is another good fit!
Currently, the Center for Medicare and Medicaid has listed only physicians, nurses and physician assistants as legitimate Medicare and Medicaid Telehealth providers. Unless this changes, dentists, physical therapists, occupational therapists, and chiropractors are blocked from seeing these patients via a telehealth consult.
If you are a Medicare provider but not one of the approved providers, can you see a medicare patient and directly charge them a fee for your service?
There is an Advanced Beneficiary Notice  (ABN) of non-coverage form CMS-R-131, but it is simpler as a dentist to opt-out of medicare! It appears that when you look at the existing telehealth services the average consult is 15 minutes and the average fee is $79 for this.
How much time should you spend for a teleconsult with a chronic pain patient (whose story might be longer and more complex than a primary care patient)?
Of course, it will depend on the patient and the nature of their problem. We estimate 20 minutes for actual consult, another 10 minutes to make careful notes. This however, assumes that the patient has filled out a detailed pre-encounter questionnaire.  A pre-encounter questionnaire might include basic demographic information, location, visit details, symptoms, and causation.
What do Medicare and Medicaid pay for a teleconsult (assuming you are an approved provider) and what level of documentation is needed?
This is yet to be seen. Physicians think they will get paid the same as when they see the patient in person. I doubt this and if the payments are increased for awhile, this probably won't last.
I see there are networks you can join as a healthcare provider. What is the advantage of this?
Mostly the national telehealth services provide very brief consults (mostly informational) and are probably better thought of as potential "practice builders." While I don't have data on what dentists earn on such website services, I don't think they're a way to earn a living.
Average Pay to MD's for Telemedicine
Typically telemedicine pays per consult or per hour
Most telehealth contractors are part-time
Telemedicine physicians average $15-30/visit
You set up direct deposit about every 2 wks
Visits are typically 5-10 minutes
Asynchronous telemedicine is text-based
Asynchronous visits pay per inbox message
Asynchronous telemedicine pays $8-18/consult
Source: https://www.wheel.com/blog/telemedicine-compensation-guide-tips-for-making-money/
Here are three teledentistry services. I don't endorse or reject any of them:
Must the patient be located in the state you are licensed in and are there any exceptions to this rule?
Yes, absolutely they must be in the same state! One exception is the PT license compact, which allow Physical Therapists to practice across state lines. This type of relaxation of state lines does not exist for dentists.
There are a several ways to find geolocation of a user: HTML5 API, Cell Signal and IP Address to name a few. Pairing of IP address to a geographical location is the method we used to provide geolocation data. There are times when you need to identify where your web visitors are coming from.
The American Telemedicine Association
"In the latest policy update, the ATA outlines several actions Governors can take immediately to facilitate the use of telehealth and safely expand virtual care during the COVID-19 public health emergency. As of March 24, 2020, more than twenty-five states have waived licensure requirements to leverage telehealth to fill provider shortages and ensure access to care"
Those 25 states include: Alabama, Arizona, Connecticut, Colorado, Delaware, Florida, Georgia, Kansas, Idaho, Indiana, Iowa, Maryland, Massachusetts, Mississippi, Montana, New Hampshire, New Jersey, New York, New Mexico, North Carolina, North Dakota, Oklahoma, Oregon, Pennsylvania, South Carolina, Tennessee, Texas, Utah.
Unfortunately, California is still missing from this list.
Must the same insurance documentation standards (e.g. Medicare H&E) be met?
Yes, absolutely! The figure below is familiar to anyone who takes medicare, which most dentists don't. It shows the type of data that must be collected to charge medicare.
Required Main Elements to Meet Criteria for E/M Levels (2/3)
| Experience Points (XPs) | Required Badges | Letter Grade |
| --- | --- | --- |
| 951 or higher | 5 | A+ |
| 901 - 950 | 5 | A |
| 850 - 900 | - | A- |
| 800 - 849 | - | B+ |
| 750 - 799 | - | B |
| 700 - 749 | - | B- |
| 686 - 699 | - | C+ |
| 675 - 685 | 4 | C |
| 650 - 674 | - | C- |
| 601 - 649 | - | D+ |
| 551 - 600 | | D |
| 550 and below | | F |
NOTE: HPI, ROS, and PFSH together make up the "history" main element, and only 2/3 of history, exam, and MDM are needed.
I assume that malpractice insurance is still in place and covers you even when you have never physically seen a patient if they sue you?
Yes, I  hope! Please call your state board and your malpractice provider to be sure.
Are we going to be required to record and store audio inter-actions within a teleconsult in the cloud somewhere?
No, just make good notes in your patient record.
If you wanted to record your teleconsult in a cloud do you need anything more than verbal consent from the patient?
No, but they must know that this is riskier for HIPAA!
When you initiate a teleconsult with a new patient are they now a patient of record and what are your responsibilities to the POR?
Yes, but if your terms of service are clear, you can limit your responsibilities, but make sure the patient agrees to the service limitation. Below is just an example of limited service, liability and indemnity for a telemedicine service encounter.
Example: Limitations of Liability and Indemnity for Expert Content.
Informational content on the Apps that is created, modified, submitted, or validated by Medical Experts or other healthcare experts (collectively, "Expert Content") is subject to the following additional terms and conditions and agreements by You. Expert Content is for informational purposes only. For medical advice, treatment, or diagnosis, see your personal doctor or healthcare provider.
Can you prescribe a medication or other treatment based on a teleconsult only?
Yes, absolutely, but you need to get adequate medical information and please avoid prescribing controlled substances.
What video consult system should you use to conduct a teleconsult?
Zoom is pretty good and easy to use and low cost and HIPAA compliant!
How do you collect money for a teleconsult?
Collect the money before the consult! I recommend the following patient workflow:
Submit request through an online form
Submit payment
Schedule appointment
Conduct consultation
For payment, I suggest an event billing service like Eventbrite, Venmo, or Paypal, but unfortunately they cost between 2-8%.
How do you phone patients without giving them your private cell phone number?
I suggest using Google Voice but also get G-suite to make it HIPAA compliant.
What do you need on your website to get your teleconsulting service running?
Here's what you need:
A request form for televisit
A PHI disclaimer (for request form)
A terms of service explanation
A teleconsultation explanation
A good symptom questionnaire
A payment policy statement
A Disclaimer & Telehealth consent
Example PHI Disclaimer
Information collected from this website or provided on any form you have submitted through the website is used only in conjunction with an interest by the user in obtaining additional information from the Herman Ostrow School of Dentistry Orofacial Pain and Oral Medicine Center. This information is not considered Protected Health Information (PHI) and will be used to contact you because you have requested that you be contacted. In addition, information provided on the website or in any response to you is not and cannot be considered medical advice or treatment.
Terms of Service Explanation
At the Orofacial Pain and Oral Medicine Center, we provide a wide range of oral healthcare services to patients treating painful condition and other oral diseases affecting the orofacial region. All services are done by residents under the supervision of our expert faculty. Since we are a teaching institution and care is delivered in an instructional environment.
Teleconsultation Explanation
The Orofacial Pain and Oral Medicine Center uses teleconsultation as a way to help our patients of record with their care. We also will take appointments for new patients, who live in California. At the first visit of a new patient we will take information from the patient … See more on OFPOM Center's website.
Paying for Your Dental Care Policy
The care and expertise of USC faculty dentists is within reach and our faculty dentists charge fees commensurate with private dental practices in the region. We accept some medical insurances but not all. Payment is expected for all services at the time services are rendered. We accept cash, checks, money orders and credit cards (Visa, MasterCard, American Express and Discover).
Telehealth Informed Consent 
I understand that I am going to engage in a telemedicine consultation.
I understand that I have the right to schedule a physical visit to the OFPOM Center for consultation, and I am choosing to participate in a telemedicine consultation.
I understand that telemedicine consultation will not be the same as a direct patient/healthcare provider visit because I will not be in the same room with my healthcare provider.
I understand that my healthcare provider will not be able to do a physical exam on me as we are in the same room, and any physical examination may be self-examine under the direction of the consulting healthcare provider.
I understand that my counselor might ask for additional diagnostic exams that require a traditional OFPOM Center visit.
I understand that treatments that require surgical or any other type of physical intervention can not be done online, and a traditional visit is needed to be performed.
I understand that if I decided to withdraw from the online consultation, that would not affect my right to schedule a regular visit at the OFPOM Center.
I understand that the laws that protect the privacy and the confidentiality of medical information also apply to telemedicine.
I understand that an appointment delay in medical evaluation and treatment could occur due to failures of the telemedicine equipment (Internet, Computer, etc.)
I understand that I have the right to ask for a copy of this telemedicine consultation.
I understand that I may expect the anticipated benefits from the use of telemedicine in my care, but that no results can be guaranteed or assured.
I attest that I am located in the state of California and will be present in the state of California during all my telemedicine consultations with OFPOM Center.
I understand that I will be responsible for any payment for this telemedicine consultation.
I agree with the above Telehealth Informed Consent.
Where can I get more information?
Visit our blog, Orofacial Pain and Oral Medicine Center Website, and check back here for updates as we put more material together
Online Postgraduate Degrees in Orofacial Pain and Oral Medicine
Do you want to deliver appropriate and safe care to your growing and aging dental patients? Consider enrolling in our online, competency-based certificate or master's program in Orofacial Pain and Oral Medicine.