Oral lichen planus is an immune-mediated disease with unknown etiology. Its clinical presentation waxes and wanes, and its severity goes from symptomatic oral erosions with erythema to asymptomatic white striations. The locations of these clinical signs are more commonly found symmetrically and bilaterally, usually in the buccal mucosa, tongue (dorsal, ventral, lateral), gingiva (buccal and lingual), posterior vestibule, labial mucosa, lips, and less commonly present in the floor of the mouth and palate. Frequently, the patient presents an associated burning sensation with foods, including but not limited to spicy or acidic food.
The prevalence of OLP worldwide ranges from 0.22 to 5% 1 , and locally, specifically in Los Angeles, California, at The Orofacial Pain and Oral Medicine Center of the University of Southern California, represents the 10th most common diagnosis ( out of over 200 diagnoses).
Like what you're learning?  Download a brochure for our Orofacial Pain and Oral Medicine certificate or master's degree program in partnership with the Keck School of Medicine of USC.
This condition can be very challenging to clinically diagnose because its presentation exhibit similarities with several other diseases. Biopsy with direct immunofluorescence will rule out other immune-mediated diseases, including mucous membrane pemphigoid, pemphigus vulgaris, lichenoid reaction secondary to medications or dental materials, chronic graft-versus disease (if a patient has a history of bone marrow transplant). However, in the case of differentiation with oral epithelial dysplasia ( pre-cancer), it can be even more clinically and histopathological challenging.
Clinical similarities and disparities
Oral epithelial dysplasia can present lichenoid features with white striae and erythematous surrounding areas, which can mimic OLP (Figures 1 & 2). It usually presents unilaterally, but there are cases (Figures 3 & 4) where lesions are bilateral and multifocal (when presenting as proliferative verrucous leukoplakia [PVL]) and therefore require the careful correlation of the clinical and histopathologic features[2].
Histopathological similarities
Oral epithelial dysplasia may present a band-like lymphocytic infiltrate and Civatte bodies that can mimic OLP. Hence, correlation with clinical features and closer histopathologic examination is required to identify the features of dysplasia (including atypia)[2,3]. Figure 5 shows pictures A; OLP, picture B; OLP with epithelial dysplasia, and C; magnification of B with black arrows pointing to the Civatte bodies[4].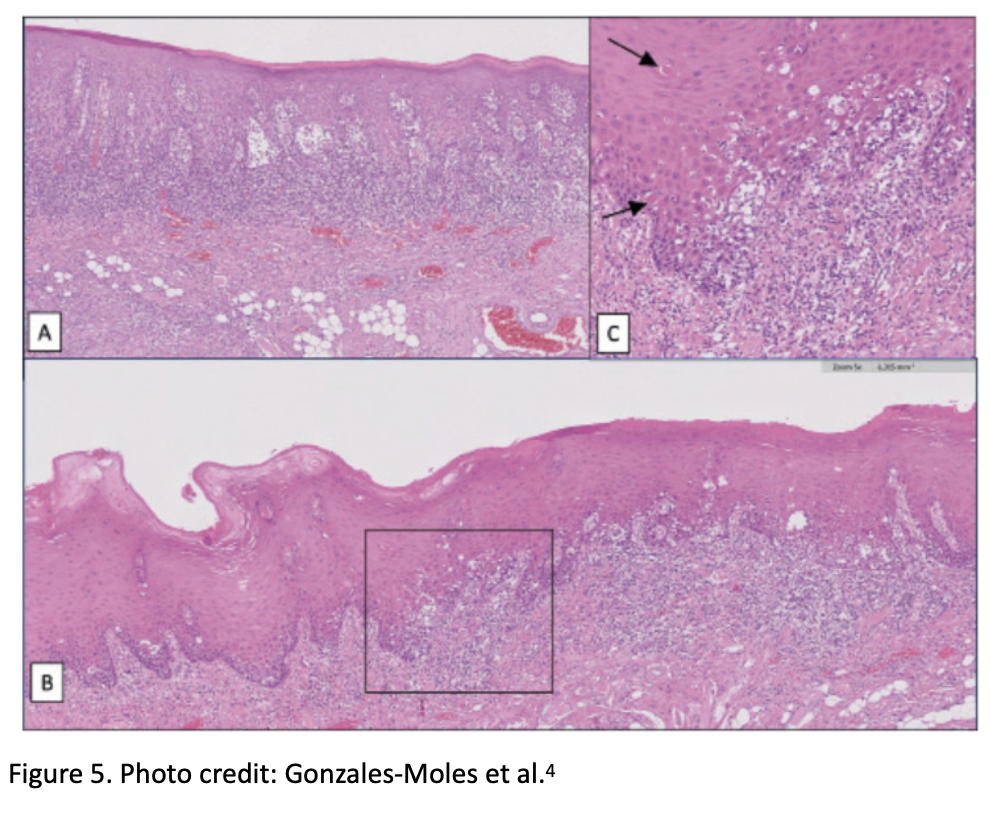 Management
The management of OLP is mainly symptomatic, meaning prescriptions targeting inflammation, ulceration, erosions, and pain. Thus, the treatment is based on anti-inflammatory medications; topical steroids (most used are Clobetasol 0.5% gel/ointment and fluocinonide 0.5% gel/ointment, dexamethasone 0.5/5ml rinse/elixir) or systemic therapy including but not limited to prednisone, hydroxychloroquine, or azathioprine.
On the other hand, managing oral epithelial dysplasia is still controversial; the grade of dysplasia, the clinical presentation (smooth vs. verruciform), and the location (unifocal or multifocal) influence it. The goal is to prevent and diminish the risk of malignant transformation. The reported malignant transformation of mild dysplasia ranges from 11.9% to 18.1%, for moderate is 8.7-17.9% and severe dysplasia 32.2-60.0%)3. The treatment strategies extend from the watch-and-wait approach to periodical surveillance biopsy, surgical excision, laser ablation, chemoablation, and immunotherapy.
Conclusion
The clinical and histopathologic overlap of OLP and oral epithelial dysplasia demands a detailed and thorough clinical examination to avoid miss diagnosis and undertreatment that could rely on malignant transformation of lesions that are under periodical surveillance of patients with OLP. Therefore because of the high risk of OSCC, when dysplasia is present in OLP patients, this should be considered the primary concern diagnosis.
Earn an Online Postgraduate Degree in Community Oral Health
Like what you're learning? Consider enrolling in the Herman Ostrow School of Dentistry of USC's online, competency-based certificate or master's program in Orofacial Pain and Oral Medicine in partnership with the Keck School of Medicine of USC.
References:
Gorouhi F, Davari P, Fazel N . Cutaneous and mucosal lichen planus: a comprehensive review of clinical subtypes, risk factors, diagnosis, and prognosis. Sci World J 2014;2014:742826.
Müller, S. Oral lichenoid lesions: distinguishing the benign from the deadly. Mod Pathol 30 (Suppl 1), S54–S67 (2017).
Chaturvedi AK, Udaltsova N, Engels EA, Katzel JA, Yanik EL, Katki HA, et al. Oral Leukoplakia and Risk of Progression to Oral Cancer: A Population-Based Cohort Study. JNCI: Journal of the National Cancer Institute. 2020;112(10):1047-54.
Ramos-García P, González-Moles MÁ, Warnakulasuriya. Oral Dis. 2021 Nov;27(8):1919-1935. doi: 10.1111/odi.13812. Epub 2021 Mar 11.